STANDARD HORIZON HX-300 VHF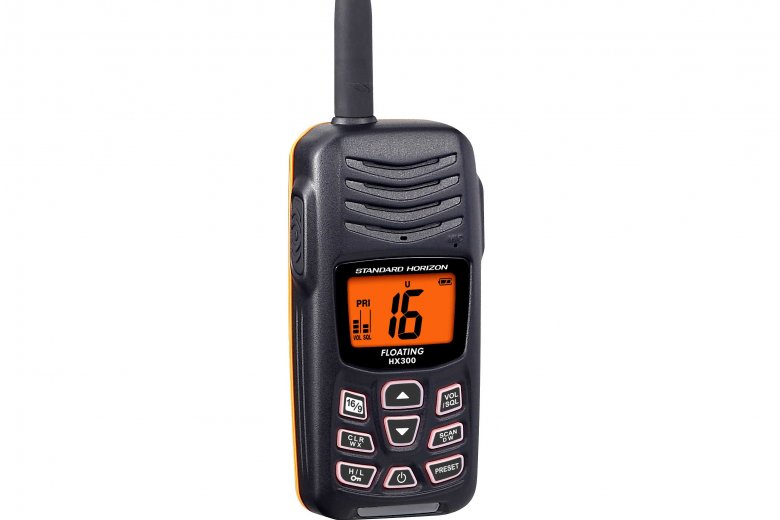 Compact Floating Handheld VHF
Compact Case Design
Compact, ergonomic case design is a result of the new ultra small, large capacity 1800 mAh 3.7V Lithium Ion battery technology. This gives the radio a much smaller case design yet light enough to float face up if dropped in the water.
E2O Easy To Operate Menu System
New intuitive menu system allows easy access to all of the setup functions of the radio, making it easy to customize settings based on the preferences of the user.
New USB Charging Technology
Supplied with a USB charging cable with 110VAC adapter providing more flexibility when recharging the battery.
It's built better so it's backed better
Because the HX300 is built better, it's backed better. If your Standard Horizon HX300 ever fails for any reason including water damage during normal use in the first three years, STANDARD HORIZON will repair or replace it free, without hassle or charges…period! If it fails thereafter under normal use, the product is covered by Standard Horizon's Lifetime Flat Rate Service Program.
Water activated Flashing LED
If the HX300 accidentally goes overboard a flashing RED LED is automatically activated to help locate and retrieve the radio at night.
Features:
Floating
Submersible IPX8 -  1.5 meters or 4.92 feet for 30 minutes
5 Watt transmit power
Unique USB charging system
E2O (Easy To Operate) menu system
Volume & squech indication on the display
Water activated LED light
Preset Key (Maximum 10 channels)
Preset channel scan function
600 mW loud internal speaker audio
NOAA Weather channels
Programmable Scan, Priority Scan, Dual watch and Tri-Watch
Supplied with the SBR-27LI 1800 mAh 3.7V Li-Ion Battery, AC USB Plug & charge cable